2017 Alumni Update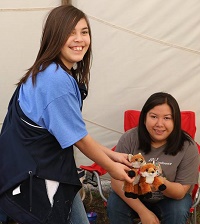 Audra Vincent (B.A., American Indian Studies and Linguistics, 2008) is a member of the Coeur d'Alene Tribe. She is currently the Program manager for hnqwa'qwe'eln, the program working on revitalization of the Coeur d'Alene language. She has been in this position for the last two years and dedicates her time to teaching the Coeur d'Alene language to a cohort of new second language speakers as well as other revitalization and documentation projects.
Audra completed her M.A. in linguistics from the University of British Columbia in September 2014 after completing her thesis on Coeur d'Alene grammatical aspects. 
While attending UW, Audra was a McNair Scholar, Mary Gates Scholar and a member of First Nations. 
Jasmine McDonald (B.A., American Indian Studies, with a minor in Diversity, 2015) is a member of the Nisqually Indian Tribe. She is currently working in the Office of the Tribal Attorney as an Executive Secretary/Paralegal for the Nisqually Indian Tribe. Her responsibilities include handling confidential information, scheduling appointments (estate planning for tribal members) and meetings, draft letter correspondences, coordinate travel arrangements, maintain hard copy and electronic filing system and provide other support to tribal attorneys and other departments.
Jasmine is now pursuing a Master's Degree in Social Work with a concentration in Children, Youth, and Families from the University of Southern California. She hopes to become an Indian Child Welfare caseworker for the Nisqually Tribe shortly after receiving her degree.  A Master of Social Work (MSW) is a versatile degree and it will allow her to work in a variety of unique environments and populations. 
After graduating from the University of Washington, Madrienne Salgado (B.A., American Indian Studies, 2008) worked in the Muckleshoot Indian Tribe's legal office (where she is enrolled) and was subsequently offered the position of Public Affairs Support Specialist in the Tribe's Intergovernmental Affairs department. Her administrative responsibilities include planning for and facilitating the Tribe's Public Affairs Committee (which covers Government Relations/Political strategy/community outreach and more), organizing and executing government and public relations efforts, as well as the general administration of the department and the Tribe's charitable donations program. Madrienne works with lobbyists, consultants, and staff to analyze public policy and develop strategies for state, local, and federal legislative agendas. Issues cover a kaleidoscope of areas, including Natural Resources, Health and Human Services, Housing, Education, Transportation, and Gaming. In addition to advancing the Tribe's intergovernmental and public relations endeavors, the fundamental objective of her work includes preserving the Tribe's treaty rights and protecting the integrity of Tribal sovereignty.
Her work in public relations and with the philanthropic arm of the Tribe fosters community outreach and education efforts. Madrienne often attends charitable events, galas, meetings, committees, speaking engagements, and assemblies on behalf of the Tribe. She has also worked with her colleague and mentor, former State Senator Claudia Kauffman, as well as with community leaders and consultants on various projects that inform and educate the public on general tribal information, the Muckleshoot history, community, and culture.
Madrienne was recently promoted to manage the Intergovernmental Affairs department. In addition to her managerial and administrative duties, she plans to use this opportunity to increase her participation in advocating on the Tribe's behalf in Olympia and in DC. She has been highly involved with tribal and community committees and boards, offering service in event planning, policy and program development, analysis, and fundraising. These include the Muckleshoot Housing Board, Muckleshoot Planning Board, Muckleshoot Loan Underwriting Review Committee, the Muckleshoot Powwow Committee, El Centro de la Raza Board, UW OMAD Friends of Educational Opportunities Board, Seattle Art Museum Education and Community Engagement committee, and the Pioneer Human Services Board. 
2016 Alumni Update
Cheyenne Sanders (B.A., American Indian Studies and Political Science, 2011) is currently Associate General Counsel for the Yurok Tribe, where she is also a member. Cheyenne earned her JD from Cornell Law School in May 2014. Cheyenne was a recipient of the McCormack Scholarship at Cornell Law, a generous merit based scholarship awarded, in part, on her AIS studies including her senior thesis "Tribal Consultation in the 21st Century." While at Cornell, Cheyenne interned with the Office of the Solicitor General at the National Science Foundation, a private law firm, and with the Native American Unit at the Northwest Justice Project in Seattle. As Associate General Counsel, Cheyenne's work includes drafting land purchase agreements, intergovernmental agreements and legal briefs on a variety of topics. She is also a tribal prosecutor in Yurok Tribal Court proceedings. In her spare time, Cheyenne is involved with her local chapter of WEWIN (Women Empowering Women for Indian Nations) and is a newly elected Board Member for the California Indian Law Association (along with fellow AIS alum, Anna Hohag).
Joe Dupris is a student in the Joint PhD program in Anthropology & Linguistics (ANLI) at the University of Arizona starting in the Fall of 2015.
Joe arrived in Tucson in 2014 and is a Master's of Arts Candidate in the Department of Linguistics at the University of Arizona, specializing in Native American Linguistics (NAMA). His Master's research, developed through community experience and archival research, examines descriptive and theoretical aspects of maqlaqsyals (Klamath-Modoc) grammar in the traditional area of the Upper Klamath Basin. As a student in the ANLI program, he intends to continue his work on maqlaqsyals linguistics, while also beginning to explore sociolinguistic and ideological issues that come to bear on the Klamath Basin. In this vein, he plans to examine the influence of political conflict, historical violence, and assimilationist government policies on language shift in this particular region.
Prior to joining the NAMA program, he completed his Bachelor's of Arts in American Indian Studies, with a minor in Environmental Science and Terrestrial Resource Management at the University of Washington in Seattle.
2015 Alumni Update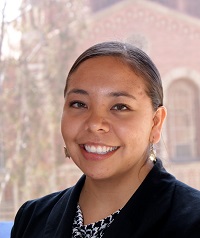 Since graduating from the Native Voices program in 2011, Clementine Bordeaux (Sicangu Oglala Lakota) started a new position as Academic Coordinator for the American Indian Studies Interdepartmental Program at the University of California, Los Angeles (UCLA). At UCLA she advises undergraduate and graduate students in the program in addition to working closely with faculty and staff to support the Native community on campus. In 2015 the Native staff, including Clementine, will form the first Native American Staff Association of UCLA to aid in professional development. She recently became active in the American Indian Counselor and Recruiters Association (University of California and California State University) and supports multiple outreach efforts for Native students on top of her regular recruitment efforts. In October of 2012 Clementine travelled to Rome with a large assembly of Native peoples to attend the canonization of Kateri Tekakwitha into a saint and upon returning from Rome, Clementine worked on several short films and workshops regarding Saint Kateri Tekakwitha, Kateri Circles and the National Tekakwitha Conference and taught the first ever "Native American Saint Kateri Tekakwitha" course in American Indian Studies at UCLA. She volunteers regularly for the American Indian Community Council (AICC) of Los Angeles, a nonprofit that works with the urban Native community. Last spring, 2014, Clementine ran her first half marathon under AICC which was an official charity of the Los Angeles Marathon and will be running the charity relay again in March 2015. This past fall 2014, Clementine was recognized as a "Native American 40 Under 40" by the National Center for American Indian Enterprise Development at the Indian Progress in Business Awards Gala.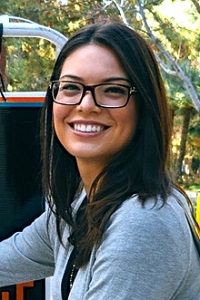 Anna Hohag (B.A., American Indian Studies, 2011) worked for the Pala Band of Mission Indians in Pala, CA (on the Pala Indian Reservation) as Tribal Liaison from 2012-2014. While there, she served as a youth mentor and set up estate planning workshops in partnership with Seattle University's Indian Law and Policy program. Anna also worked on Pala's Giving Program (the Tribe's charitable giving program) and worked on Fee-to-trust applications for the Tribe. As of Fall 2014, she has been attending The James E. Rogers College of Law at the University of Arizona, where she will earn her J.D. with a certificate in Indigenous People's Law & Policy. She has been awarded the Williams Achievement Scholarship, a full tuition scholarship, as well as an Arizona Centennial Public Interest Fellowship. Anna was also recently awarded a summer internship through Procopio's Native American Internship Program, a law firm in San Diego that serves tribes in the region. Her anticipated graduation date will be spring 2017.
Maria Givens (B.A., American Indian Studies and Political Science, 2013) recently interned at AT&T's External Affairs Office, working on tribal issues. Maria was the first Northwest area intern for AT&T's new Native American Internship for government relations. In this internship, Maria worked with tribes and monitored legislation regarding telecom issues. In June 2014, she began work on the Denny Heck for Congress Campaign as a Field Organizer, working on organizing the Central Pierce County area in order to reelect Congressman Heck. Maria was involved in an extensive field program including canvassing and phone banking. In November, Congressman Heck won with 54% of the vote. 
We'd love to hear what our former students are up to!  Fill out the alumni update form to send us your news.
If you'd like to stay connected with our department, like our Facebook page, follow us on Twitter, subscribe to our News Feed, or join our Mailing List.