Owen Oliver, Indigenous Walking Tour for University of Washington, Seattle campus, May 2021.
His junior year, Oliver spent time at the University of British Columbia (UBC), which later led to another community project. During his four months at UBC, with scholarship support from the Corbett Exchange Scholars Program — a program of theCanadian Studies Center in the Jackson School of International Studies — he immersed himself in UBC's extensive Indigenous Studies and language program offerings, where he encountered a booklet highlighting Indigenous house posts across that campus. The booklet got his wheels spinning. "Hmm, there's nothing like this at the UW," he thought.
Upon his return to Seattle, Oliver decided to create a walking tour of the University of Washington Seattle campus, highlighting the Indigenous presence on campus. His senior year, with support from the Husky Seed Fund and Center for American Indian and Indigenous Studies, he researched and drafted the tour.
The 40-page, full color booklet tells the story of Indigenous places through an Indigenous community member's eyes across seven stops on campus. Stops include the Burke Museum, wǝɫǝbʔaltxʷ  [Intellectual House], Indigenous artworks, the Medicinal Herb Garden, the Ethnic Cultural Center, the Husky Union Building (HUB) — where one of his father's works is on display — and Union Bay Natural Area. The booklet, with physical copies available at University libraries and other campus buildings beginning Autumn 2021.
Oliver's role as UW tour guide seems particularly fitting given that his parents, his grandparents, his sister, and numerous other relatives have been Huskies. Many of them went on to be educators, including his grandfather Emmett Oliver (MEd, 1947), who was the director of the Indian Student Program at the UW and then the supervisor of Indian Student Education for the state of Washington. Oliver envisioned a similar future for himself before his focus recently pivoted toward politics.
"With my lived experiences growing up at the University of Washington, I felt it was my responsibility to tell that story," he says of the walking tour. "I'm so excited to release it. The tour is kind of an ode to the Indigenous UW community, and a gift of my parting." The booklet will be made available completely free of charge, following Oliver's wishes and generous funding from donors. The tradition of potlatch is deeply ingrained for Oliver, having seen his father, renowned artist Marvin Oliver, give original artwork prints to graduating Native students at the UW for many years. Continuing that cycle, he says, "If you enjoy the walking tour, I ask for you to donate to the Marvin Oliver scholarship fund."
---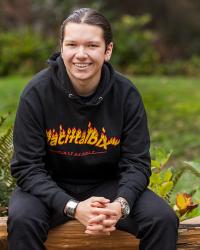 Owen L. Oliver (Quinault / Isleta Pueblo) comes from the Chinook people of the Lower Columbia River and the Isleta of the Southwest Pueblos. Owen graduated from the University of Washington in Spring 2021 with a double major in American Indian Studies and Political Science. Through these majors and experiences at the UW he's been able to do a range of advocacy work on and off campus. Mainly focused on Indigenous education and 'Place' learning, Owen hopes to be able to weave more of his creative writing into all of his political work in the future.
To contact Owen please email him at owenlloydoliver@gmail.com