Professor Emeritus and Co-Director, Native Voices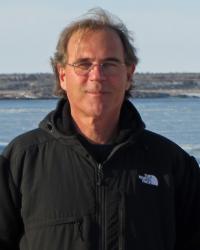 Biography
Professor Daniel Hart has been teaching in AIS since 1999 and retired in 2019, though he graciously continues to teach several courses a year for appreciative students. He is the co-Director of the UW's Native Voices Program and is the Director of the Canadian Studies Program. Professor Hart received his M. F. A. in Film and Television from Temple University School of Communication in 1984.
Professor Hart is an award-winning documentary producer and director, who has been working with Native American and First Nations educators, media producers, and youth for over 20 years. He is deeply involved with the development of indigenous pedagogy and indigenous research methodologies. He is involved in a multipart project, which is developing K7-12 health curricula for Native American schools. His films have been screened at the Sundance Film Festival, the Museum of Modern Art, the Vienna Film Festival, as well as many other venues around the U.S. and abroad. He was named "Producer of the Year" by the National Native American Film Festival.
Professor Hart has produced, co-produced and directed numerous films including A Return to Wellness, produced in collaboration with the The Indigenous Wellness Research Institute at UW, this film speaks about the effects that colonization has had upon the health of Native peoples and communities, and the ways in which indigenous peoples are reclaiming their health systems; The Healthy Heart Video Series produced with the University of Washington School of Medicine. This series of instructional films deals with cardiovascular health for Native youth; A Dream for Water, a PBS/National Science Foundation film tells the stories about tribal peoples along the Missouri River Basin and Schools Weren't Made to Separate, which was part of an Annenberg/Corporation for Public Broadcasting funding series exploring innovations in the education of Native American students.
Professor Hart teaches:
AIS 443 - Indigenous Films, Sovereign Visions
AIS 446 - Producing the Documentary Short
AIS 501 - Research Methods in Native Communities
AIS 503 - Documentary Form, Theory, and Practice